WIZWORKS SHOP
Hi, and welcome to the shop at Wizworks Labs.  Here in the shop, I will list items I have for sale and each will have a Paypal button for convenient checkout.  Please note that D-Spot nodes are manufactured when ordered.  Please allow approximately 2 weeks lead time on all orders.  Quantity orders will get priority in the manufacturing queue.  When checking out, please indicate the quantity desired in the Paypal processing window.  Once your order is received, production will begin once your payment has cleared.  Check out D-Spot testimonials
D-Spot
PRODUCT DESCRIPTION:
This hotspot provides D-Star, DMR, & C4FM coverage on the 70CM band (frequency settable by user) for use when mobile or stationary.  The easy LED indicator readout easily provides operational status as well as 2 buttons for reboot & shutdown commands.  No more having to program pesky commands into your HT!  Just push a button!  Management is via initial shortcable to the ethernet port and you can upload config files via HTTP interface, which causes the D-Spot to reboot and apply your configuration. (callsign, frequency, preferred reflector, etc).  Full system administration is possible via the onboard Webmin admin web console.  No need to learn linux CLI (though it wouldn't hurt).  This is designed with Linux & D-Star newcomers in mind!  A brief video of the D-Spot operation is available below.
What's in the box:
AC Adaptor (12V DC Out) * (Optional)

SMA Whip antenna * (Optional)

D-Spot Hotpot Unit
Other Niceties:
2 Year Warranty (parts & labor)

1 Year Free Support

D-Spot is based on open standards; MMDVMHost (G4KLX), Debian Linux.  Should you wish to learn more about stuff under the hood, you have a path to learning AND a nice DV appliance.
All D-Spot units ship preconfigured – you're on the air when you receive D-Spot!

Free Firmware Updates (as long as you own the hardware)

Excellent for D-Star, DMR, & C4FM beginners

PoE (Power over Ethernet) is an available option – allowing you to power D-Spot in places remotely over standard cat5 cable!

Safe for mobile operating

Low power footprint – run on solar or LiPo packs

Internal buck regulator

Keeps your cellphone charged when tethering via onboard USB port – no more dead batteries!

Custom designed by K1WIZ to address mobile hotspot operating pains.  This design philosophy promotes K.I.S.S. operation
I designed this unit as a commercial offering with attention to many pain points mentioned by operators on the air.  Mobile D-Star hotspot operation can be hit or miss, with many things that can go wrong.  The D-Spot was designed to get a new Digital Ham onboard as quickly as possible, bypassing much of the D-Star, DMR, & C4FM learning curve.  As the manufacturer of the D-Spot, I offer a 1 year warranty on the unit which covers parts and labor, less shipping. The D-Spot also comes with 1 year of free support.
Have a data plan on your mobile phone or tablet?  you can easily tether your D-Spot to your mobile device to allow the D-Spot to connect to a digital network and KEEP YOUR DEVICE CHARGED at the same time via USB cable!  In this way, the D-Spot kills 2 birds with one stone – don't arrive at your destination with a dead cellphone anymore.  Also, using a USB cable (as opposed to wifi) is MUCH better as it keeps latency as low as possible so your digital connection is more reliable when mobile, while also avoiding interference on the crowded wifi band.  There is also an on-board ethernet port in addition to the USB tethering/charge port for fixed operation or use with a wireless to wired bridge.
The D-Spot is meticulously constructed out of cast aluminum and only the highest quality components are used.  It is designed to stand up to the rigors of field use and features NEUTRIK connectors for durability and reliability.
Here are many of the key advantages to the D-Spot Hotspot design – if you have any questions, please feel free to ask!:
Universal 7-35 VDC power input with internal regulation – power easily with Solar, DC, or portable source like Li-Po packs

UHF operation in the 70cm Ham Band

Easily shows operational status by panel mounted LEDs

Panel mounted NEUTRIK connectors for Ethernet & USB Tether connections for supreme field durability

Panel mounted coaxial DC input connection

fan-less design – no moving parts to wear out

Built in a compact die-cast aluminum enclosure that can stand the rigors of mobile field use

Easy web based configuration management via laptop on shortcable to ethernet port

Simple "KISS" operation by 2 buttons, Reboot & Shutdown.

Seamlessly switch between USB tethered internet (iPhone & Android) and wired internet

You don't need to be a Linux guru or programmer to operate this unit

Low power footprint (approx. 6 watts)

Panel mounted SMA antenna connector accepts any standard UHF SMA whip antenna, or for increased range, use an external antenna with an SMA adaptor

Approx. range is 1 mile line of sight but on average you can get .5 miles or more with just a whip antenna

Keeps you connected to the world-wide D-Star, DMR, & C4FM networks while on the move or where repeaters are not available.

LED panel mount indicators for: ircddbgateway, MMDVMHost, internet reachability, & MicroSD card I/O for "at a glance" operational status.
HOW DOES D-SPOT COMPARE?
PLEASE NOTE: the following comparison aims to not only compare the market price of the various listed products, but also compares the differences in the following areas:
Design – D-Spot is the utmost uncompromising hardware design.  Only premium hardware is used in construction.
Small Production Scale – D-Spot is manufactured in the USA by hand.  Meticulous attention is applied in the production of every unit throughout the production cycle.
Value Added Features – Along with the attributes listed above, D-Spot features hardware and software attributes designed to promote an easy and enjoyable DV experience.  Spend more time enjoying the DV mode of your choice, and less time tweaking/fixing buggy operation.
Personal Service to the Ham – D-Spot owners enjoy access to the User's Group on Facebook, as well as dedicated support and communication from the D-Spot Engineer in Chief (K1WIZ).
We realize that the comparison may not be "apples to apples" but rather "apples to oranges" in that what is considered in this comparison is the amount of money AND upstart skill required to implement each product.  It is therefore suggested that this comparison be interpreted as what would be required to get on the air immediately and how much of the required learning curve is short-circuited, allowing a new DV Ham to operate right away.  That being said, the chart below indicates base features vs. market cost.  D-Spot provides the fastest path to "plug and play" operating, without the need for any upfront learning, allowing a new DV Ham immediate access to DV modes.  With D-Spot, there is ability to "get under the hood" allowing a new DV ham to "operate now, learn later".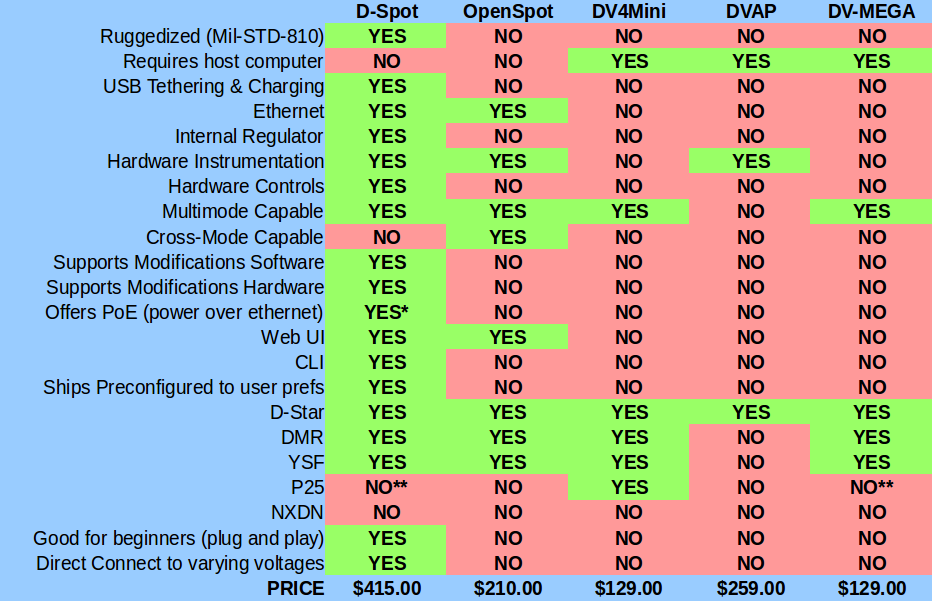 Online Video Demonstration of the D-Spot
NOTE: This is no longer offered on EBAY.  Buy direct from this site.  Sorry but D-Spot only ships within the USA as I'm not setup for selling internationally.


Purchase Online: