There are many home automation technologies available today.  To list a few, some are:
Z-Wave – easy to setup (a robust open wireless mesh type system with a central controller)
ZigBee – requires serious skills (another wireless system – not the same as Z-Wave)
X10 – easy to setup (uses timing signals sent over power lines, not reliable, but easy and cheap)
Insteon – easy to setup (proprietary wireless system)
In my project, I chose Z-Wave since it is open source and it is supported by many different device manufacturers (GE, Leviton, Echolink, Iris, etc).  Z-Wave also has the distinct advantage in that you can place the central control node anywhere in your building since the wireless protocol forms a mesh and each node (light switch, outlet, etc) is also essentially a repeater.  When nodes act as repeaters in addition to their primary function of controlling an outlet or switch of some kind, they also relay commands to neighboring nodes and keep track of who their neighbors are.  This is extremely useful since any commands destined for a distant node will quickly be relayed to the farthest node.  The more nodes you have in your control network, the greater the footprint your control network can cover.  Possible node types can include the following devices:
Switched AC outlet
Light Switch/Dimmer
Door/Window Sensor
PIR (Passive Infrared) motion sensors
Door Locks
Relays
Given the cost of the various components in your Z-Wave automation system, it is generally recommended that you plan deployment one room at a time.  Replacing your switches and outlets with Z-Wave ones is a way you can add value to your home since you can advertise your home as "Z-Wave" or "Automation" ready, so all this is added value since more people these days are not only becoming familiar with smart devices in the home, but some are expecting it.   Also, it should be obvious here that if you aren't comfortable with working with electricity, please get qualified help.  You can easily cause property damage or worse, be killed by taking short cuts, or not paying the proper respect to electrical safety.
There are a number of controllers available such as:
DIY approach: I built mine out of a Raspberry Pi, Linux, and Aeon Labs Gen5 Z-Stick
Vera Edge
Wink
Samsung SmartThings Hub
Dlink Connected Home Hub
I chose the DIY route as I wanted to build my own controller, this choice has advantages in that I learn how it works and I can do custom stuff, like scripting and interconnectivity with other devices in the home.  Here is a view of my Raspberry Pi/Z-Stick based control node (click for larger view on all images):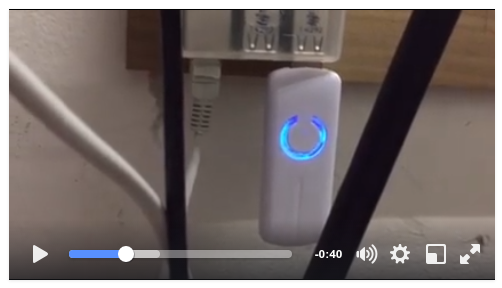 The Raspberry Pi runs Debian Linux with OpenZwave and Domoticz web UI.  These are all free software.  You can download a prepared Domoticz image build here.  This build has everything you need to roll your own home automation system using the Raspberry Pi, which is extremely efficient and only draws about 7 watts!
Once you setup your controller and you have replaced/added z-wave devices, you can add them to Domoticz web UI and start setting them up.  At the time of this writing, I have several z-wave devices on my control system.  You can view the device communication topology and see the mesh formed here in Domoticz, which shows how the nodes are linked to each other forming a Z-Wave mesh (click for larger view):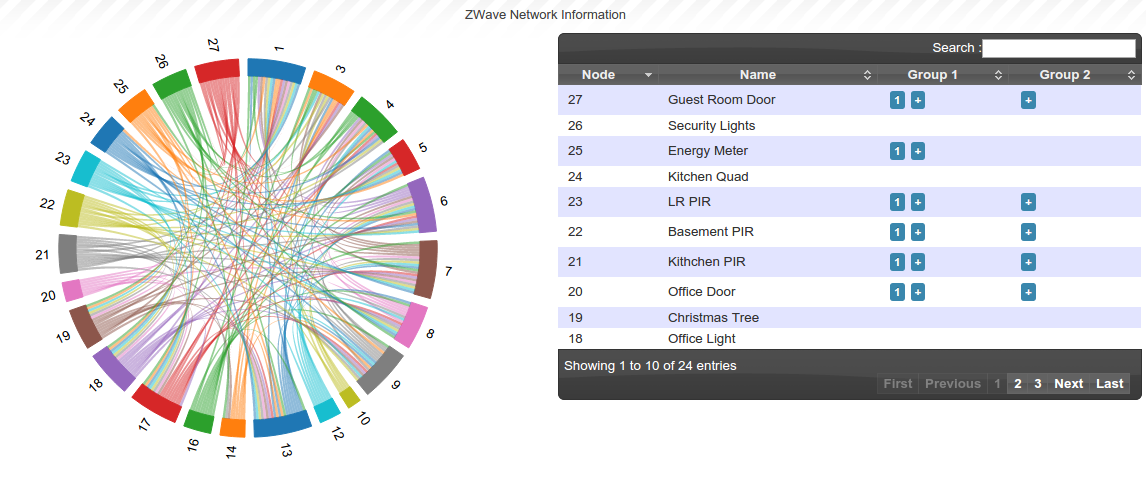 Clearly, you can easily see why Z-Wave is extremely robust and reliable.  There is no way for a control command to be missed.  Once you have added z-wave switches (carefully!) and they are on your controller, you can easily assign them to a name and device type for easy use.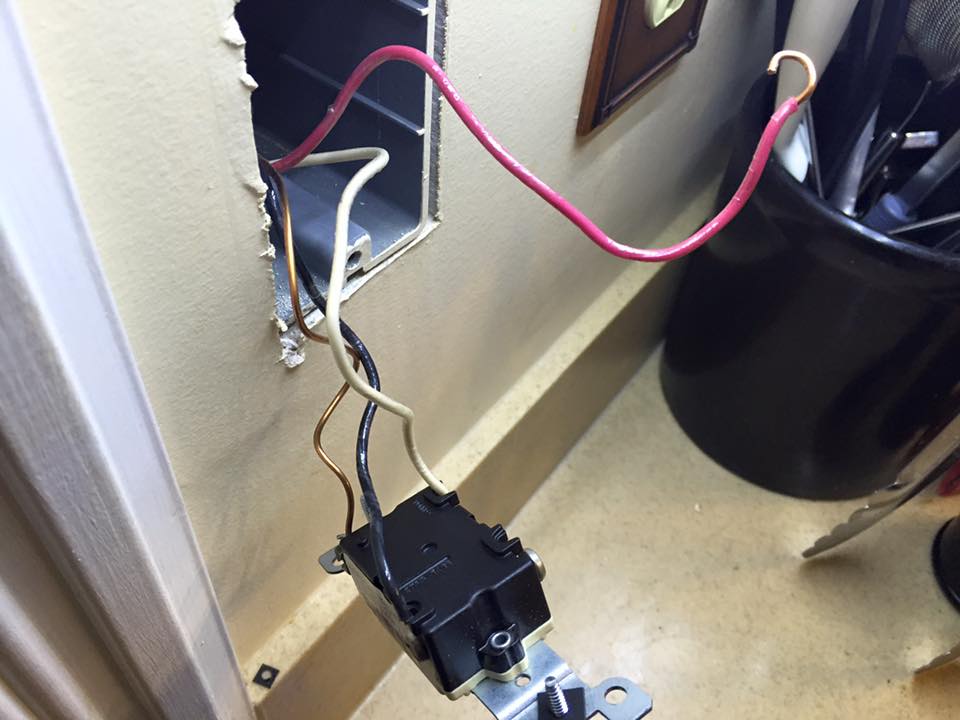 Most Z-Wave devices WILL need a HOT (black) and NEUTRAL (white) connection in addition to GROUND (copper) in order to work properly.  For switches, sometimes you do not have a neutral line in your switchbox, in which case you must somehow provide a neutral connection or the Z-Wave module will malfunction.  When you have finished adding your devices, you will be able to see them in the devices screen: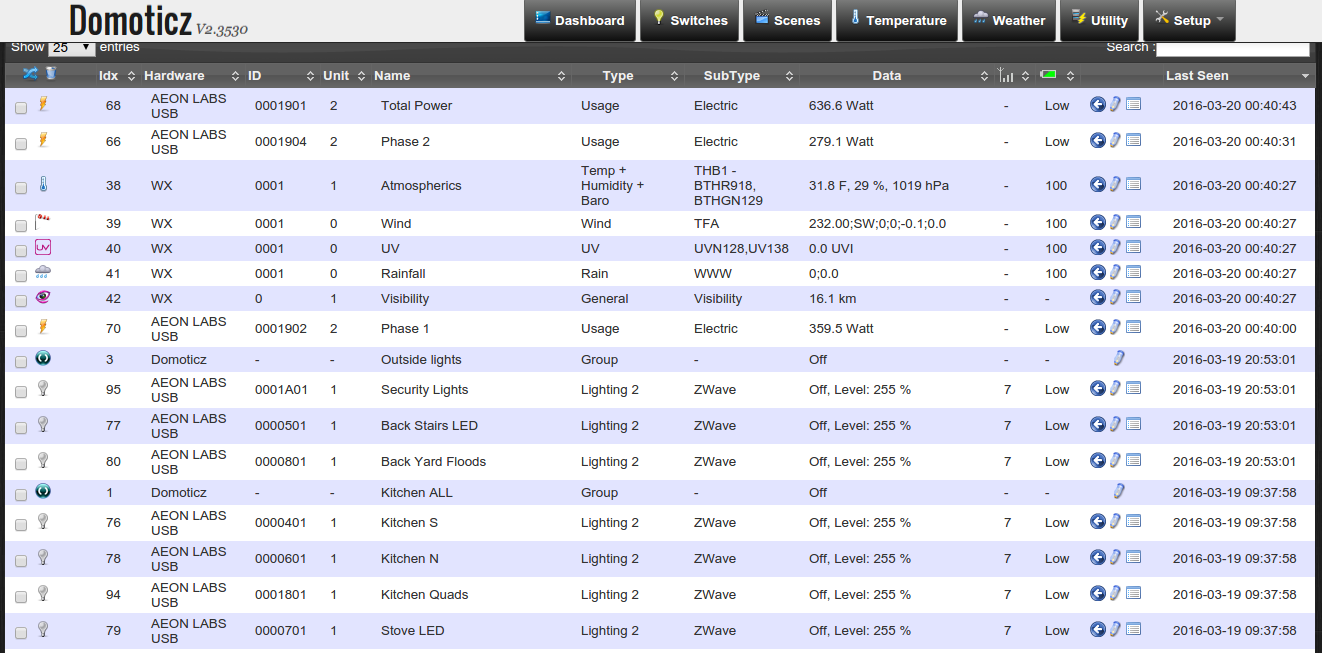 When you have added and assigned z-wave devices to your control system, you can then proceed to set them up as you like and they will appear on the SWITCHES tab of the web UI: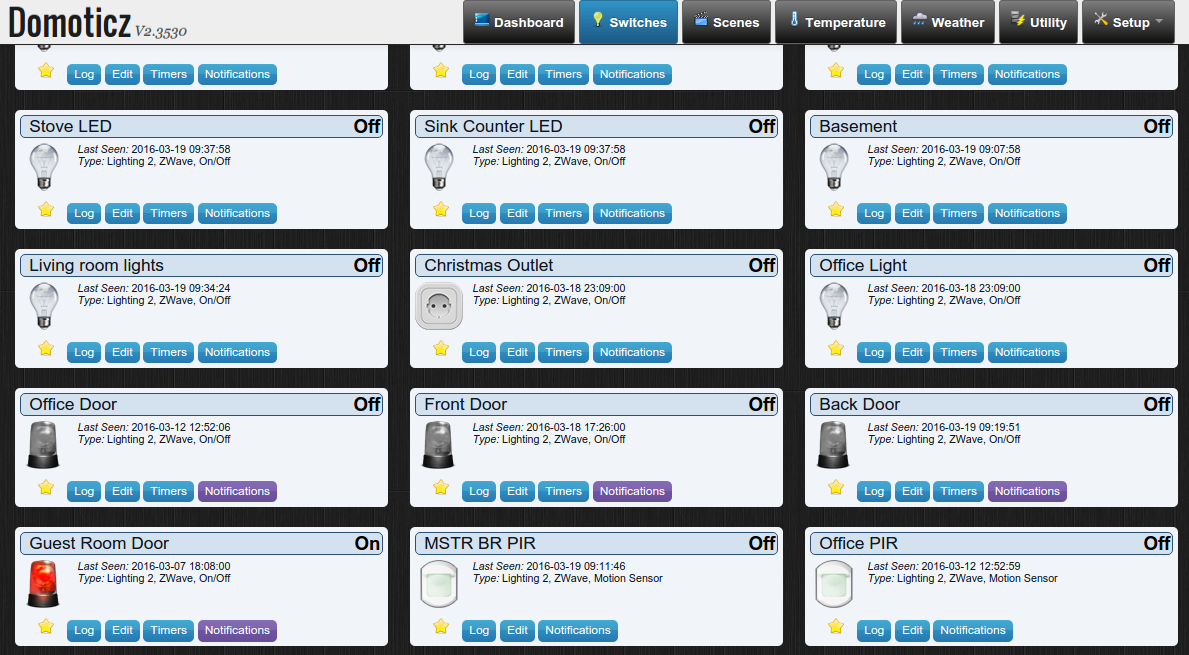 In this example, you can see that I have many different types of nodes on my control system.  I can set notifications on door sensors, motion sensors, or in my case, I can use PIR motion sensors to trigger lights to go on when I enter the room.  Door sensors alert me to doors being opened/closed and these alerts appear on my mobile phone and even my Apple Watch.  From my mobile device, I can control or be alerted to things happening in the house: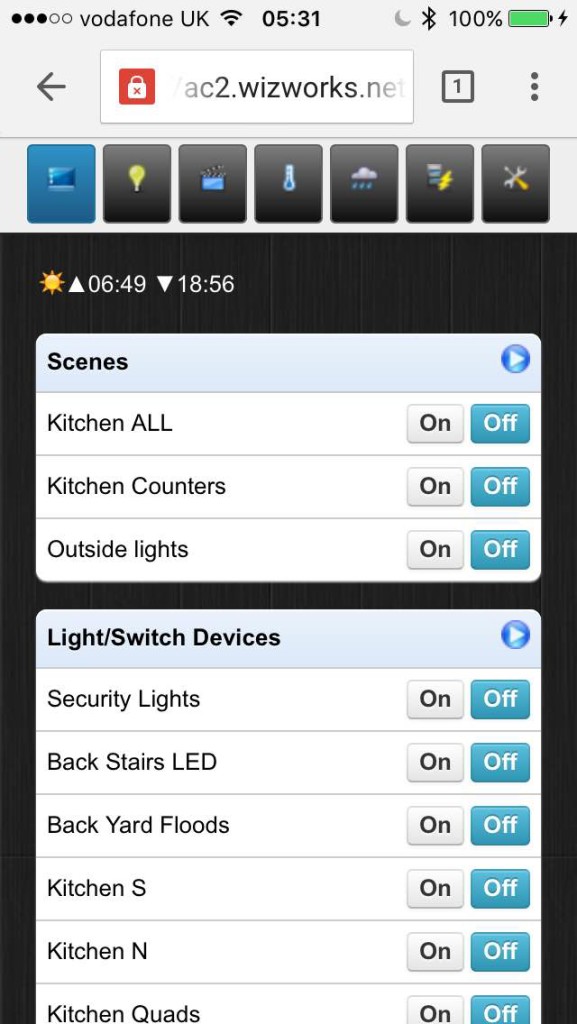 Here you can see that I can also check the total home electrical consumption in real time as well as weather data: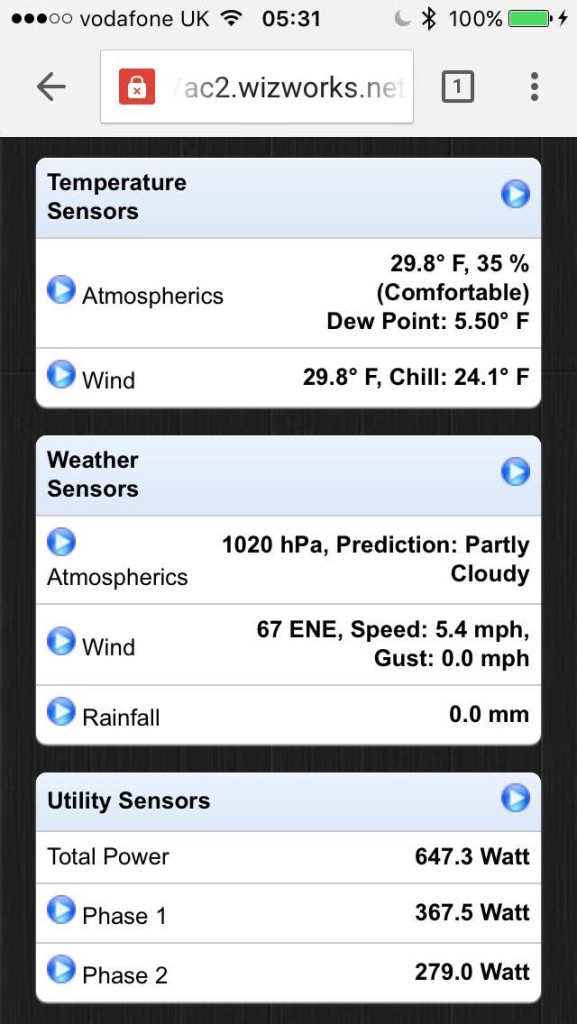 In addition to checking in from my mobile, I also have the ability to enjoy a full dashboard which gives me the ability to control devices or review data from the many functions in the system for utility, weather, set notifications, timers, just about anything: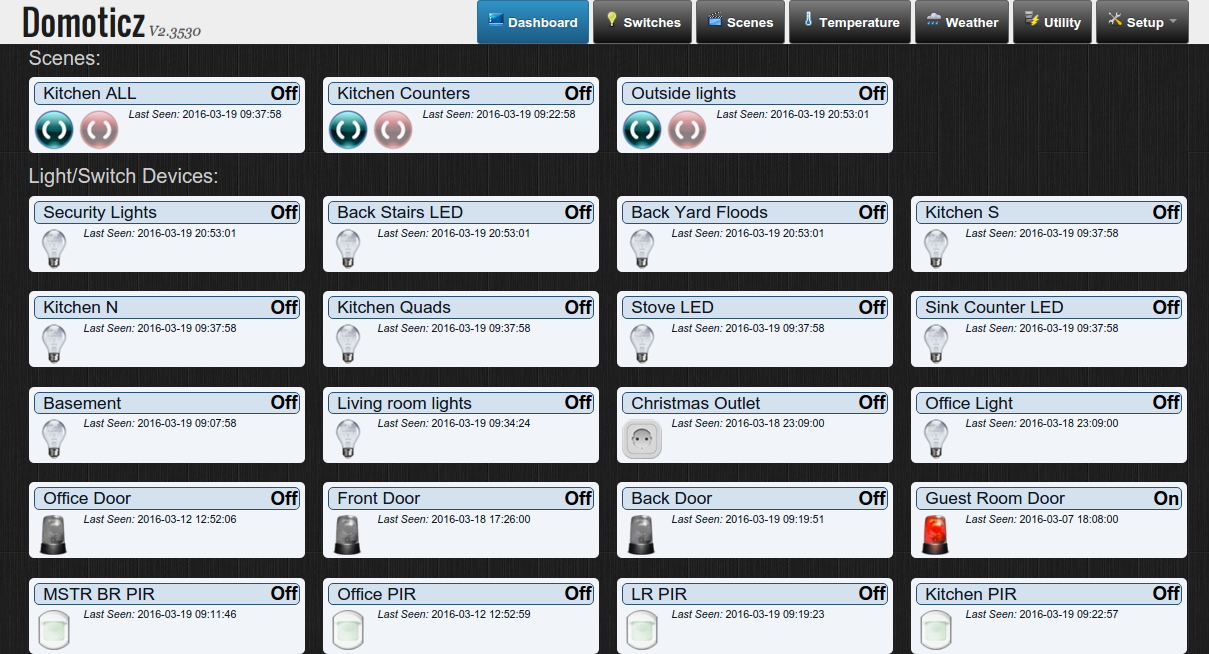 and for looking at weather data: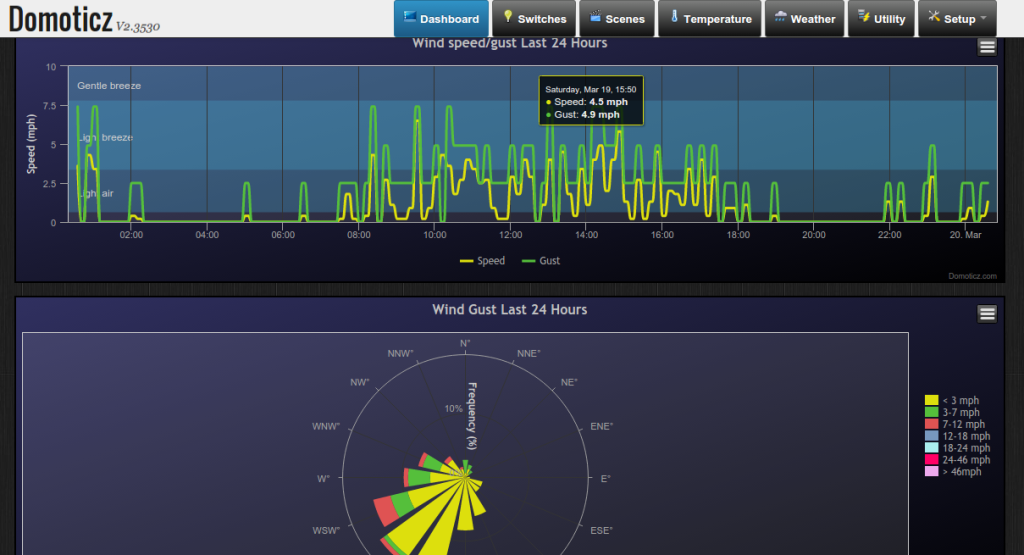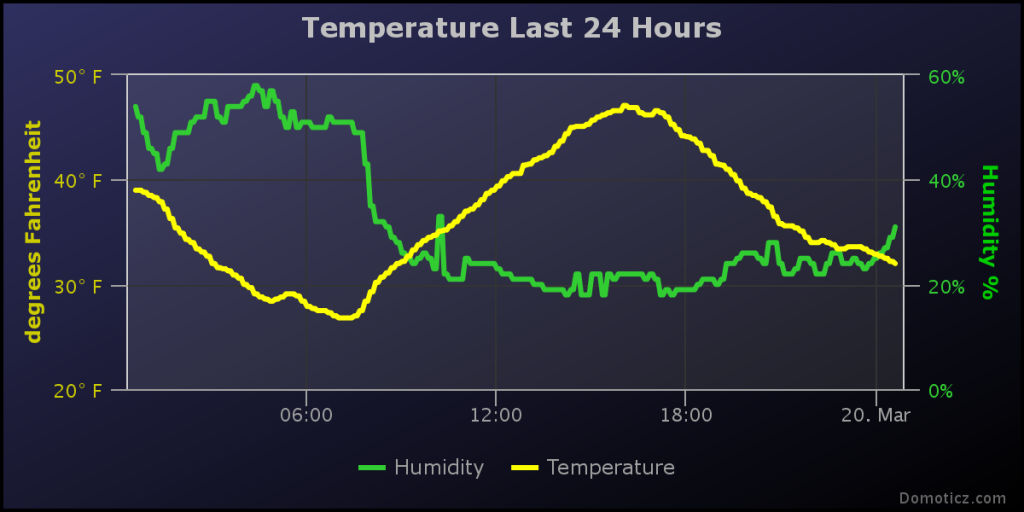 I can also tweak Domoticz to do my bidding in the settings menu: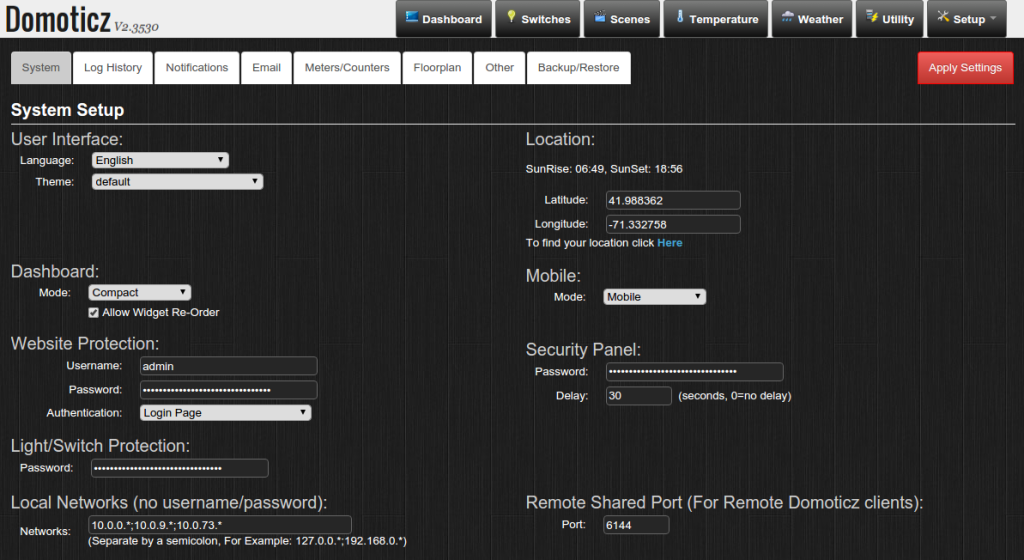 In addition to all this, I can set notifications for events such as motion, door sensor, and device state change: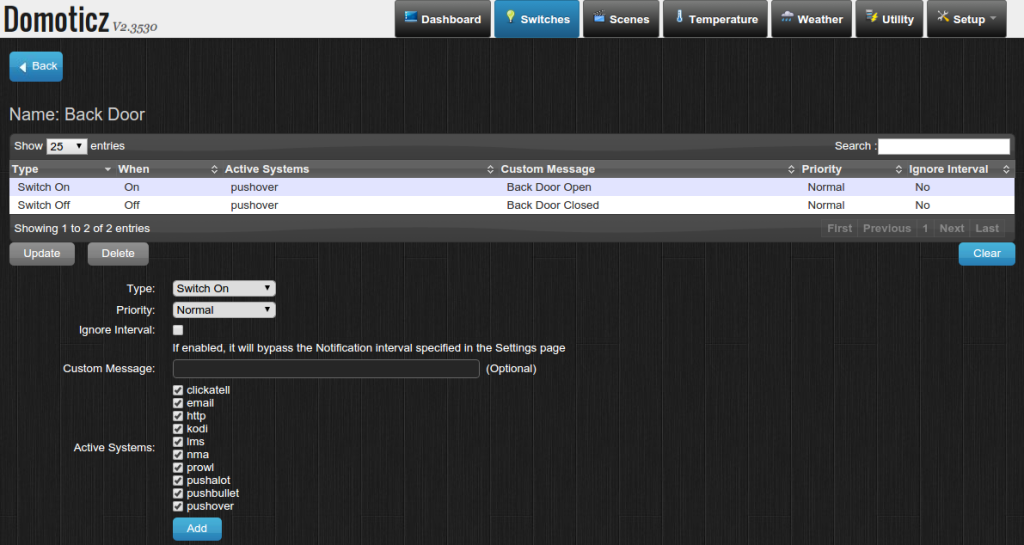 Notice that you can use a variety of notification options.  I use a free push service called pushover.  Pushover has apps for android and apple.  It works like a charm.  For times when the UI doesn't have a work flow for getting the type of settings or actions you require, you can easily script them and it's as simple as putting blocks of logic code together.  This allows for creativity and imagination in your automation routines.  Here you can see that at night after 10PM I only want the kitchen counters to light when I enter the kitchen, but for other times, turn on all the kitchen lights:

I can also monitor total electric power usage and even get details on how we use energy: