There is a relatively new mode of operation on Ham Radio.  It involves linking radios to the internet and is an interesting mode of communication that offers many benefits.  Chances are, you might already know what D-Star is and you are looking for information on how to setup a D-Star hotspot.  A D-Star hotspot allows you to use your existing D-star handheld radio (or mobile) and allow you to use your radio at home as a gateway to the D-star network instead of requiring a repeater, which is a much more complicated setup and far more expensive.  I have built 2 D-star hotpots, a fixed base hotspot and a transportable hotspot that I built into a military ammo can.  Here is a picture of the "Ammo Can" d-star hotspot: (click images for larger view)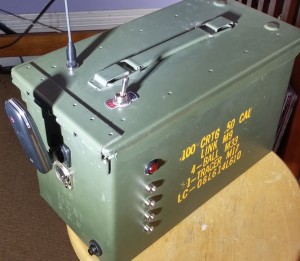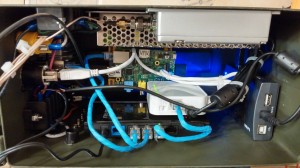 This unit can connect via: 4G, WiFi, & Wired Ethernet & be powered from AC & DC power from anywhere.  Output is on 70cm set @1Watt.



Note it is quite tight in there.   List of parts used:
Ammo Can – ebay (about $14)
100Watt Switching Regulated 12 Volt DC Power Supply (about $40)
5V DC to DC switching regulator (for 5V electronics – about $30)
Raspberry Pi model B computer (runs OS and application – about $35)
USB hub (for 5V power distribution – about $10)
4G router (uplink to 4G dongle – about $30)
USB Neutrik chassis mount connector – $8
Ethernet Neutrik chassis mount socket – (for outboard system management – $8)
twist lock AC Neutrik chassis mount socket – $10
Buffalo 4 port wifi router (for internal network – $59)
DVRPTR V1 DV modem – (mounted under Raspberry Pi – sends DV frames to and from radio – $120)
5 watt UHF Maxon SD-125 telemetry data radio – ($50 – ebay)
screw terminals, instrumentation LEDs, miscellaneous hardware, RF connectors, & fittings (approx. $40)
You might be thinking "I have a DVAP, why would I need this?"  simple:  a DVAP is a simple device but has very limited transmit range due to very low TX power (they only put out 10 milliwatts), so going beyond your own property results in being out of range – not quite useful.  By setting up your own hotspot, you can take advantage of a higher power transmitter and fixed base antenna to extend the range of D-Star access to your entire town or even much farther depending on your TX power, height, and terrain.  All you need are the following items to get a successful hotspot on the air inexpensively:
a Raspberry Pi computer, or any other host computer (Raspberry Pi computers are extremely low power devices and the energy footprint is small & they are cheap!)
a DVPTR V1 modem board (DV Modem) – (the Moencom Starboards are not reliable – for the same price, the DVRPTR is FAR better!)
a VHF or UHF radio that offers direct discriminator & modulator access (most radios with a 9600 baud 6pin DIN packet port offer this) Motorola GM300 VHF/UHF radios with the 16 pin connector also offer this and are real cheap on ebay.
a VHF or UHF antenna connected to the radio that is going to be hosting the hotspot
a 16 or 32GB SD Card (class 10)
a copy of the Raspbian OS for the Raspberry Pi (to be written to the SD card)
a copy of Jonathan's D-star software – to be compiled on the Raspberry Pi, configured, & run
STEP 1:
Acquire the above listed components & download the required software.
"burn" the raspbian OS image to your SD card (documentation is on the Raspbian site)
Connect a STABLE 5V power supply with at least 2-3 amps of current to your Raspberry Pi – your DV modem will receive it's power from your Pi.
Download, compile, run, & configure Jonathan's d-star software (***INSTRUCTIONS SHOWN BELOW***)
Connect your DV modem to your Raspberry Pi & radio.  Be sure your DV modem is connected DIRECTLY to a USB port on the Pi – NOT via a USB hub!
a WIRED* ethernet connection from your Pi to your internet router. *Best option
select a CLEAR VHF or UHF frequency in the simplex sub-band & set your TX power on your radio for low power initially, then increase power as desired when your hotspot is working as desired.  Remember, hotspot operation duty cycles can be VERY high!  Choose a modest level of power that provides reasonable coverage or provide active cooling for the radio if operated at high power levels or damage to the radio will result.
STEP 2:
Acquire a suitable D-Star portable radio – either a handheld or mobile unit.  I own an Icom ID-880 (mobile unit in the car) and an ID-51 (handheld with integrated GPS).  I use these to talk into the D-star network through hotspots or full repeater systems
If you haven't yet, you need to REGISTER your callsign with your nearest local D-star gateway so that you can use the D-star network from anywhere.  More information on registration is HERE.
Be sure to program your radio correctly so that your calls will properly route out from your hotpot to whatever reflector server you are connecting your hotspot to.  Reflectors allow dozens of hotspots and repeaters to rebroadcast your transmissions in any city in the world.
Obtaining & compiling Jonathan's D-star software:

You should join the ircDDBGateway & PCRepeaterController Yahoo Groups to get the latest copy of the software in the "Files" section.  I will be uploading a complete tarball package so you can get going right away, but if you need support, I urge you to join those two groups as they have the latest software & a community of knowledgeable people who are willing to help you get started & give you pointers.  For your convenience, I have uploaded a copy of the software on my own server (though it may not be the latest, but whatever version is there, is what I have deemed to be stable).  You can get it here: https://ftp.wizworks.net:7075/dstar   There is also a script I wrote in that URL which acts like a watchdog to ensure your hotspot is always on the air if the USB connection between the computer and the DVRPTR should momentarily lapse.  The instructions for using this script are detailed in the commented section at the top.  Simply follow the instructions and your hotspot will always be on the air.
Once you download the software package from this site, you can extract, compile, and install it.  Be warned: compiling on the raspberry pi computer takes TIME, so PLEASE be patient!  This process can take a few hours to complete.
download the tarball here: *** LINK TO BE POSTED SOON ***
install the build environment pre-requisite packages – run:


sudo apt-get install wx2.8-headers libwxgtk2.8-dev libwxgtk2.8-0 libusb-1.0-0-dev portaudio19-dev libpcre++-dev

After installing the build requirements, extract the file you downloaded and build the software:


tar -xvf filename.tgz

Now cd into the extracted directory and then the "ircddbgateway" subdirectory.  Let's build ircddbgateway: type

make

You will now see a lot of stuff scroll up the screen and this will take around half to a full hour.  After make completes, now install ircddbgateway by running

make install

.

cd up to the parent extracted folder and now build and install the repeater:


cd ../DStarRepeater

then run

make

then

make install

when the make finishes building.

If all went well and you did not get any compilation errors, you should be ready to begin configuring your hotspot.  NOTE: at this point, you *MUST* be sure your callsign is registered in the D-star system or you cannot proceed.
Configure the ircddbgateway & DStarRepeater programs:
*** to be added later ***
PLEASE CHECK BACK OFTEN AS I AM ADDING MORE DETAILS TO THIS ARTICLE