When we bought and moved into our home in 2009, our kitchen came complete & was remodeled by the previous owner.  They had installed halogen lighting under the cabinetry which was conveniently operated by a switch above the counter.  This was great for enhancing visibility of foods being prepared, while washing dishes, or any other kitchen task.  There was only one problem: halogens EAT ENERGY and spare no time wasting it.  About 90% of the energy used in halogens is radiated as heat and not usable visible light.  Leave these lights on and you could see quite a few bucks added to your electric bill over a month's time.
I took it upon myself to rip out these wasteful halogens & replace them with LED lighting.  LED lighting is far superior for lumens (light output) delivered for energy consumed.  Taking out the old lights was easy & I was able to re-use the wiring already in the walls for the 120v AC supply and the 12v DC bus to 3 LED light bars – each with 100 high output LEDs each.  To do this job, some basic tools were required: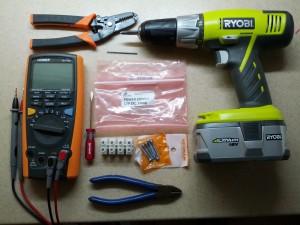 In the photo here, you can see how I wired the first light – with a 120vac to 12vdc switching power module.  I cut the wires and fastened them to 2 separate termination blocks which keeps the wires secure while eliminating exposure to line voltage.

You can see here that there are 2 ROMEX wires coming out of the wall.  These were originally used by the halogen fixtures.  Rather than fishing new wires through the wall, I figured I would re-use the existing wire.  The ROMEX on the left is the 120v supply feeding the switching PSU and the ROMEX on the right is being used as a 12vdc bus going to the other 2 fixtures.  NOTE: it is important to label such wires for safety reasons if existing house wiring is used for carrying anything other than standard house current!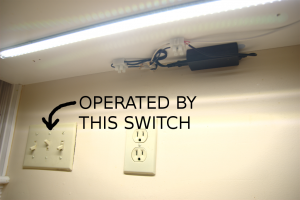 Here are some shots of what the kitchen looks like when lit up by these LED beauties!
And in the dark…
Now from eye level below the cabinets…
As you can see here, I made every effort to keep this a clean install and hide the wiring.  I can say I'm happy to report success for this project due to a high "Wife Acceptance Factor"  🙂
-John