Sick of paying for cable or satellite?  I was!  This year I am saving my family almost a thousand dollars annually.  Let me explain:
We dumped Comcast Cable TV and now the $69.00 that was spent monthly on TV is now saved by making the switch to digital over the air antenna.  Today, since all TV broadcasts over the air are now digital, that means over the air TV is not like rabbit ears of decades ago.  Today, with a properly designed & installed antenna, you can receive MANY free digital HDTV stations for nothing!  This is now an excellent alternative to pay TV services.   With a proper antenna system, reception of these popular networks is possible courtesy of local broadcast outlets:

I live in North Attleboro, MA and I get 34 stations with NO BREAKUP or snow.  They come in reliably and for free.  We are not missing cable whatsoever!  Here's a list of the stations we get & a picture of the antenna I designed & built installed in our attic: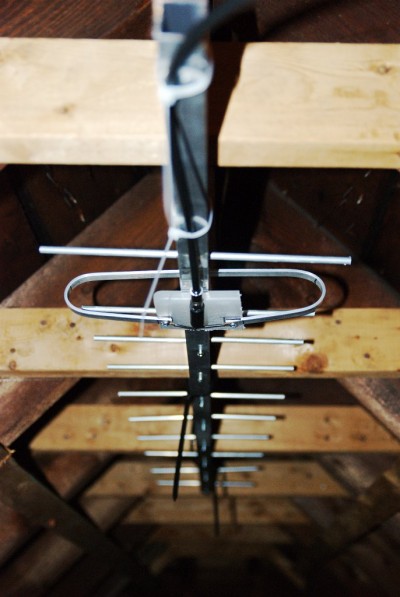 2.1 WGBH – PBS HD
2.2 WGBH – PBS SD
4.1 WBZ  – CBS HD
5.1 WCVB – ABC HD
6.1 WLNE – ABC HD
7.1 WHDH – NBC HD
7.2 THiS Boston
10.1 WJAR – NBC HD
10.2 RTV
12.1 WPRI – CBS HD
12.2 COOLTV (Music Videos) SD
25.1 WFXT – FOX HD
27.1 Univision HD
27.2 Univision
28.1 WLWC – CW HD
28.2
36.1 WSBE – PBS HD
36.2 PBS
38.1 WSBK – UPN HD
44.1 WGBX – PBS HD
44.2 WGBX
44.3 WGBX
44.4 WGBX
56.1 WLVI – CW HD
62.1 RTV
62.2 RTV
64.1 WNAC – FOX HD
64.2
66.1 WUTF
66.2
68.1 ION HD
68.2 QUBO SD
68.3 ION LIFE
If you live in or near a metropolitan area, it is likely you will receive quite a few channels as well.  The most important part of your TV system is of course, the antenna.  Money spent here is an investment that pays back serious dividends every month you use it and are not paying outrageous fees to a cable or satellite company.  It is a fact that most Americans watch only 10% of what they subscribe to – why throw money away?  Great programming can be had for free in many areas.  Check your area and see what you can pickup for free over the air!
If you have multiple TVs in your home, simply adding a distribution amp like this one (pictured below) can feed all TVs from ONE antenna in your home!  $AVE!  Antennas *DO* work with DVRs as well!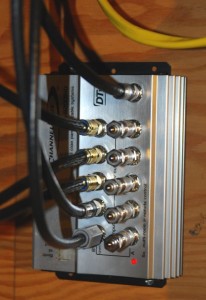 Antennas are a great investment – free yourself from recurring monthly TV bills today.
* Note: depending on your location, a preamp may be needed if you are in a fringe location.  If you have more than one TV in your home, a distribution amp might also be needed to make up for line losses.  Your individual requirements will vary based on location, height, obstructions, & distance from desired TV transmitting facilities.
-John Rogers