Before I start, I should preface this with a stern warning.  While it is NOT illegal to publish this information, it COULD be illegal to make use of it.  You, the reader & consumer of this information assume ALL LIABILITIES for how this information is used.  That being said, onward…
The reason I am publishing this information is because I feel the laws that are meant to protect the entertainment/intellectual property (IP) industry are not adequate at protecting internet consumers from wrongful prosecution and some light needs to be shed here showing just exactly how a neighbor can be exploited (and subsequently end up in legal hell) as a result of someone with enough skill & hardware taking advantage of the concepts herein.  It cannot be said enough how dangerous this can be.  Here is an article discussing a SWAT team raid of an innocent family who was held at gunpoint because their wifi signal was used to commit a crime and the IP address was considered valid intelligence to subject this family to a terrorizing raid: Personal Liberty – Family Terrorized By SWAT TEAM
Wifi routers do an excellent job of broadcasting access to the internet for our convenience throughout our living & work spaces.  They are great for cutting the wired tethers and allowing us to freely move about – but this convenience comes at great risk.  In many neighborhoods, it is all too easy to find an open (unsecured) network and even easier to find networks secured with WEP or WPA-TKIP encryption.  These encryptions are easily cracked using widely available tools such as backtrack 5  – now known as Kali Linux (http://www.kali.org) which is easily obtained & used.
Once access to an open or weak encrypted network is available, it is easy to use simple RF techniques to get a strong hold of the victim signal and make use of it for illegal/illegitimate purposes.  See picture (click for larger detailed view):
In testing this out, I have built the following type of network in my home and setup a mechanism to gain easy access to a victim network.  The ease of which I was able to do this cannot be overstated.  Here is a rough diagram of how I set this up using common hardware (ie. cisco catalyst switches or any other switch capable of VLAN tagging), most of which can be had for pennies on the dollar on ebay (click image for larger view):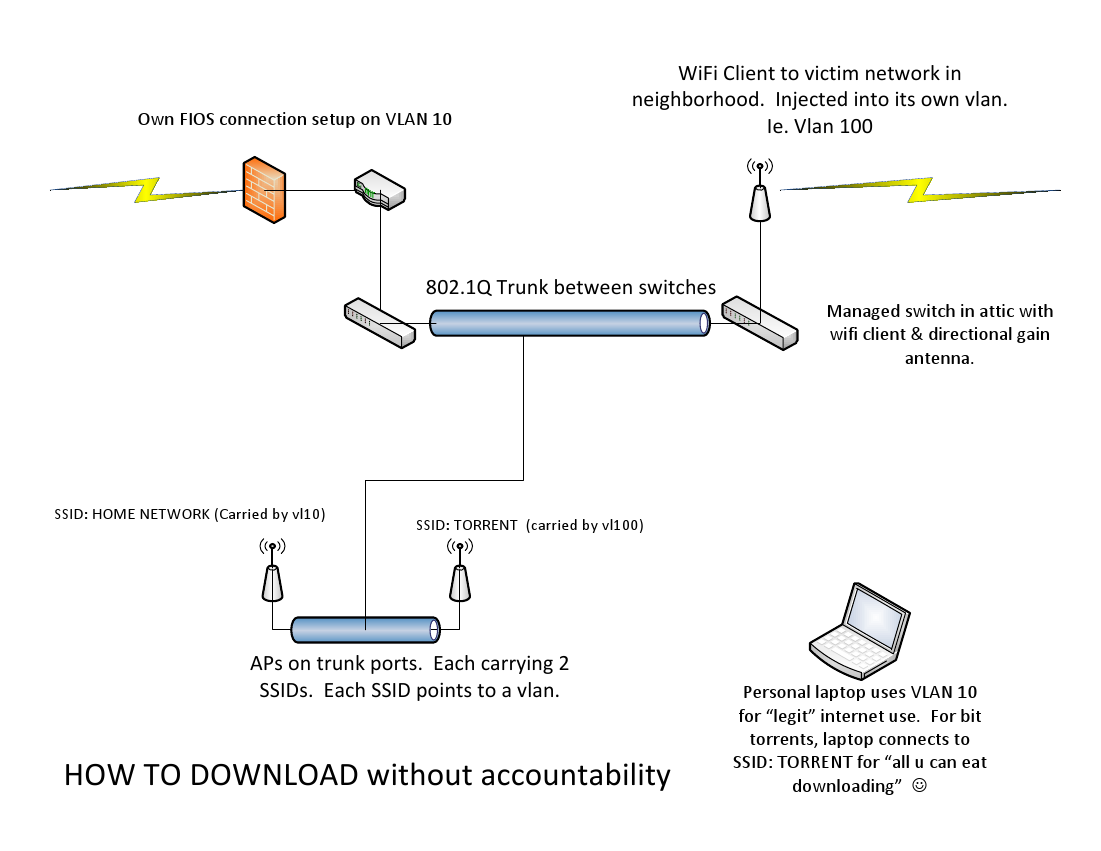 Through the use of simple layer 2 networking, it is easy to embed access to a remote network within your own LAN and make it available to multiple devices.  Through doing this, it is possible to execute hundreds of bittorrents and acquire content illegally and without legal ramifications.  The owner of the "victim" network ends up dealing with the legal ramifications and perils.  I will add pictures and descriptions of the components used in the near future so visit back often and share this information with everyone you know so they understand that they are at grave risk under the current laws that hold people accountable by IP addresses – which should not be considered accurate intelligence/evidence for the reasons explained here.  Please help educate and inform people today – share this article.