When transmitting high speed serial data (above 1200 baud), or D-Star DV frames over the air, you need a true FM transceiver that provides direct modulator & discriminator (detector) access.  This is important because phase modulation will screw up the data or DV frames in a high speed data application and this would make the radio utterly useless for high speed data/DV (D-star or DMR) use.
One could use a re-purposed Motorola CDM1550 (UHF or VHF) and if you know the interfacing, you are in business.  Be warned though, that these radios come at a higher price point and you may have to ante up to play in this game of D-Star/DMR etc.  I managed to find a small 5watt UHF transceiver for a small portable D-Star project and found that the radio worked for my application.  Here I will attempt to document the Maxon SD125U2 Data/Telemetry UHF transceiver.
---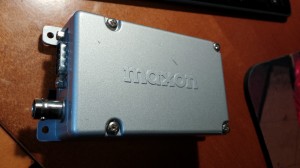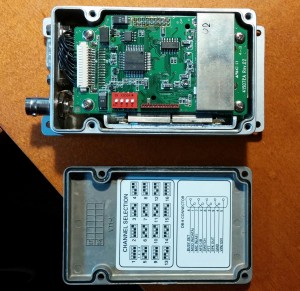 As you can see here, the unit has DIP switches inside for channel selection.  Other than that, the way to program the frequencies is via RSS (Radio Service Software) released by Maxon.  The software runs under Windows and uses a simple circuit that you can build as a RIB (Radio Interface Box) that is used to program the frequency assignments into the radio & set power levels to either 1 or 5 Watts (Lo/Hi).  A word of caution: since DMR and D-Star have inherently high transmit duty cycles, it is STRONGLY suggested to use the 1 Watt setting unless you have a DAMNED good reason to use higher power.  I can't state this enough.  The RF final stage in these radios were not designed for the high duty cycle  and such high TX duty can significantly shorten the life of the radio.  You've been warned!
Here is the unit service manual (with full schematic and pinout diagram):
SD-125E Service Manual July 2012
Here is the RSS:
And a schematic of the RIB to program the unit (click for larger view):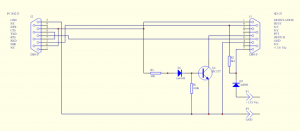 These radios can come in UHF and VHF flavor and can be found on ebay for around $50 – a REAL bargain!
NOTE: If you require high RX sensitivity, I recommend you use a Motorola CDM1550 instead.  These Maxon radios are perfect for close quarters, but not very sensitive receivers in them, so they tend to be just slightly deaf.