ODROID C1:
There have been recent revisions of the Raspberry Pi (the 2, B+, etc) but for the same price point ($35 USD), Hardkernel has released a new ARM based microcomputer (Odroid C1) for the same price as the latest Raspberry Pi.  Take a look (click for larger view):

Radxa (Rock Pro):
Move over Raspberry Pi (and many other competing products), I learned about the radxa Rock Pro ($99) which offers a great deal more for not much more money.  Enter the Rock Pro by Radxa.com, a new company with a more forward thinking vision of what a Single Board Computer could be.  Needless to say, I had to have one, so my order is in and it is on its way to my house.   When I get it, I'll do a project on it and post it here in the Projects area.  But for now, let me tickle your imagination with this info graphic: (click for larger view)
Raspberry Pi:
Hi, I got a new model B Raspberry Pi (the 512MB version) and I noticed that when I ran the "free -h" command, I did not see the full 512MB of RAM.  After some research, I found that the firmware needed to be updated.  After updating the firmware, I was able to run the "free -h" command again and verify that the Linux OS could now see the entire amount of RAM.
For those who do not know what the Raspberry Pi is, here is a picture showing what this amazing little board offers: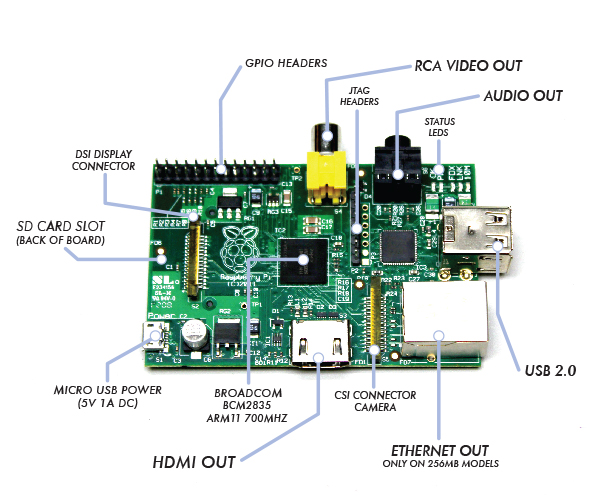 As you can see, this board is an excellent piece of hardware.  This is the perfect kit for educators to get kids interested in computers, operating systems, software, & programming.  Many things can be built using the RPi, and it's use is only limited by your imagination!  These boards are in extremely high demand and distributors worldwide are having a challenge keeping up with demand world wide.
When you get your new Model B board with 512MB of RAM (the previous model B only had 256MB) you need to update the firmware.  Here's how:
Log into the board via SSH or on a local keyboard and run the following commands:
sudo apt-get update 
sudo apt-get upgrade
sudo apt-get install git-core
sudo wget http://goo.gl/1BOfJ -O /usr/bin/rpi-update
sudo chmod +x /usr/bin/rpi-update
sudo rpi-update
After you complete the last update command, reboot your Pi and then run this command to view memory usage:
free -h
If all goes well, you should see something like this:
free -h
 total used free shared buffers cached
Mem: 438M 98M 339M 0B 21M 40M
-/+ buffers/cache: 36M 402M
Swap: 99M 0B 99M
Once you complete all the above, your OS will now be able to make full use of the board and all the RAM.