Because I am an active Ham Radio enthusiast, it is hard to pass up the chance to try new things that come out, especially new radios!  My first experience with digital Ham Radio was D-Star, and while D-Star is great and a lot of fun, I *had* to try DMR eventually.  Unlike D-star, in the beginning, it was hard to come by dual band DMR radios, but a lot has changed since the DMR mode has matured in the Ham Radio community.  DMR, has its roots in commercial land mobile communications, typically business, municipal, and public safety services.  The system was initially developed by Motorola and released as TRBO (MotoTurbo).  TRBO allowed the interlinking (via IP networks) of various repeaters and radio systems in the commercial world.  Each system was often referred to as a zone and a zone consisted of one or more channels and/or talk groups.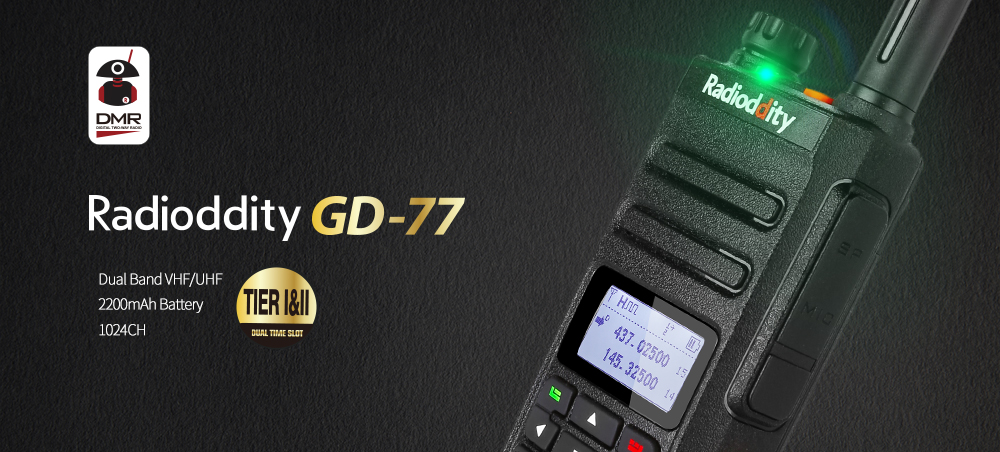 Enter 2017, and DMR (compatible with TRBO) is now available by many 3rd party OEMs and even in dual band flavors!  My first DMR radio was the TYT MD-390 (A great radio!) but when I first purchased mine, I paid $179 for a UHF only version without GPS!  Definitely cheaper than your average D-Star radio (most D-Star radios average $350).  It is no wonder a lot of Hams flocked to DMR, you could get TWO DMR radios for the price of ONE D-Star radio!  That simple economic fact allowed DMR to explode and now DMR radios are everywhere, and significantly less expensive.
Recently, I purchased a pair of Radioddity GD-77 Dual Band DMR radios from a trusted vendor on Ebay for $169/pair shipped.  The radios are a bit thinner than the ubiquitous MD-390, and upon unboxing them, I soon realized they were decently made and came with the following items in each box (though I ordered a pair, each radio ships individually):
Radio
2200mAH battery
Programming Software (Windows)
Programming Cable (USB)
Belt Clip
Antenna
Manual
Drop-in charger
Power cord
Everything you need to operate is in the box!  You just need to install the software and figure out how to program the radio, which is not difficult if you are used to doing this sort of thing.  You basically create channels, then zones, add contacts, add channels to zones, and put your DMR ID in the proper field.  For advanced users, you can enable "expert mode" in the programming software by holding down CTRL ALT SHIFT + F11, and then entering this password: DMR961510.
STERN WARNING: It should be noted that the radio does ship with apparently random frequencies programmed by the factory and these frequencies (if used) would put you in serious trouble if used!!!   If you are a Ham, you are advised to program your radio with the proper frequencies before use.  If you are not a licensed Ham, I recommend you use the radio on the MURS frequencies, or (dare I say it) on the FRS frequencies (the ones often used by the popular bubble pack radios frequently available in stores).  DO NOT TRANSMIT ON THE RADIO UNTIL YOU PROGRAM IT TO PROPER FREQUENCIES, OR YOU COULD BE IN SERIOUS TROUBLE!!!!
The radio has a simple display, (I actually like it more than the MD-390 display, as you can read it without the backlight unlike the display on the MD-3X0.  I had my radios programmed in 5 minutes, and was on the air in no time, without reading the manual.  Who needs a manual anyway?  I have two uses for my GD-77 (I am buying 3 more handsets), 1) Ham Radio  2) FRS/MURS for family communications (keeping tabs on my kids as they play in the neighborhood).  In the later use (kiddie comms) one of the great feature of these radios is that:
They can use traditional FM mode – makes them compatible with other non-digital (analog) radios commonly available in stores.
TWO WAY TEXT MESSAGING! (across a talk group or 1-on-1) – digital mode only.
In digital mode, range is slightly increased and there is NO noise or static.
In digital mode, eavesdropping is largely eliminated since most MURS/FRS radios use analog FM – BONUS!
In digital mode, these radios can make use of optional encryption just by turning it on – eliminating any eavesdropping opportunity – just as private as a cellphone!
In digital mode, you can have one or several "Talk Groups" or privately message 1-to-1 – not possible with traditional FM radios.
These radios can enable "remote monitor" which lets you command another radio to start transmitting for a preset time interval so that you can listen to nearby sounds, or conversation that is happening near the far unit.  This is FANTASTIC for keeping tabs on your kids!  There's no visible indication when you "open their mic" and listen in on what's going on around them!  This allows parents to proactively check-in on their kids!
Programmable buttons for quick sending of alerts or activating functions.
Amazon has the GD-77 with prime shipping for $89/radio.  This is perfect if you are an experienced radio user and quite convenient.
PARENTS & SCHOOLS:  I am willing to offer parents a value added service:  you can buy the radios through me, and I can pre-program them to proper frequencies & with some "secure" channels if you wish to buy several as part of a group.  With this option, you can simply unbox and use them.  If interested in this offer, please call 617-651-1492 and ask for John & I'll be happy to help.  This offer is available to non-commercial & family end users only.   For commercial users, please look up your nearest radio shop/dealer.