FIRST: A STERN WARNING!
The technology discussed in this article has serious potential to land you in trouble under possible state and federal wiretap statutes. Your use of this information is at your own risk and I cannot be held liable for your failure to use this information in accordance with local/federal laws. You agree that any use of this information is at your risk and that you agree to follow laws in your area when using the materials and software technology discussed herein. This information is published for educational purposes only.
I wanted to build a super sensitive microphone to pickup sounds and transmit them via my cloud streaming server so that I could monitor an area remotely. The project goals were:
had to be inexpensive, compared to commercially available "off the shelf" offerings
had to use existing open source components (software/hardware)
had to be sensitive enough to pickup sounds from adjacent rooms
had to be wireless
had to use an efficient sound codec to transmit picked up audio
had to be easy to operate
Parts List:
Raspberry Pi Zero 2W (any small ARM board should work, but it's got to have wifi) $15
32GB MicroSD card – you can use smaller, but this is what I had on hand $8
Dupont ribbon cables – $1
5V wall wart – I had these on hand, but you should be able to source for about $5
MEMS Mic element – (INMP441) – $4
Polycarbonate project case – (BUD Industries PIP-11760-C) $15
Raspbian OS 11 – (based on Debian Linux) FREE
Liquidsoap audio toolkit – (installed via OPAM) FREE
Total Project Cost: $48USD Here's a picture of the finished unit (I built 2):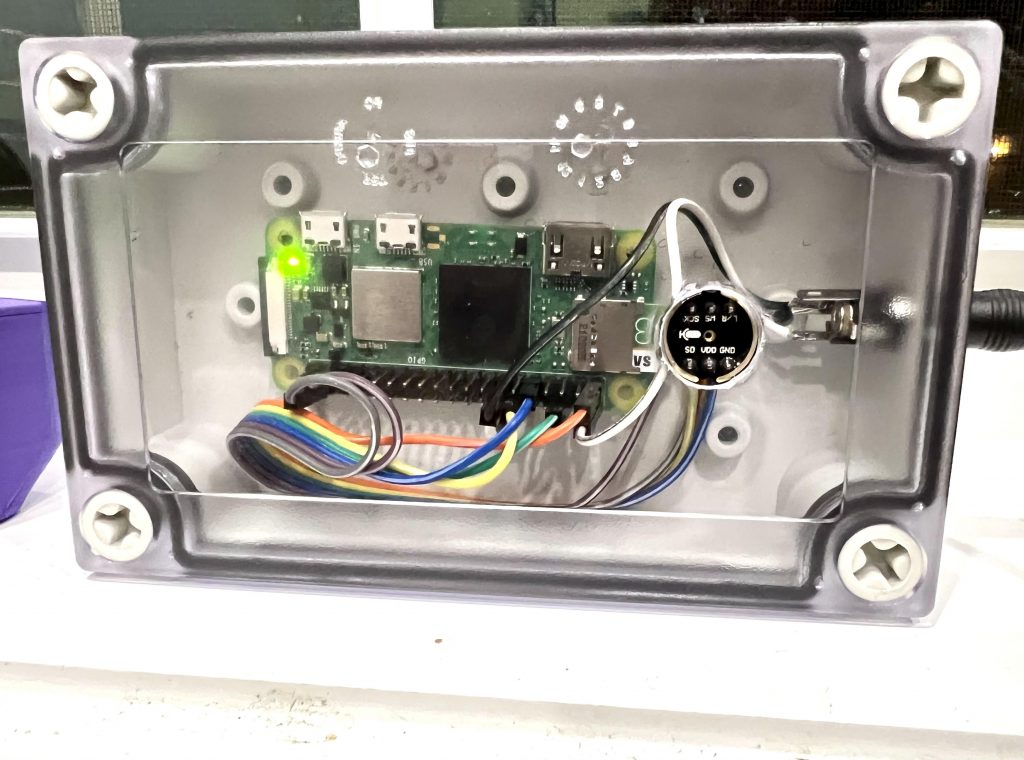 The mic element is held in place by a bead of super glue around the edge. In this project, I did not build a stereo mic, but rather just a mono pickup. (I only wired one mic element and set it to the LEFT channel) It would be fairly easy to wire a second element and do a stereo version. Refer to the wiring diagram for how to wire a stereo version: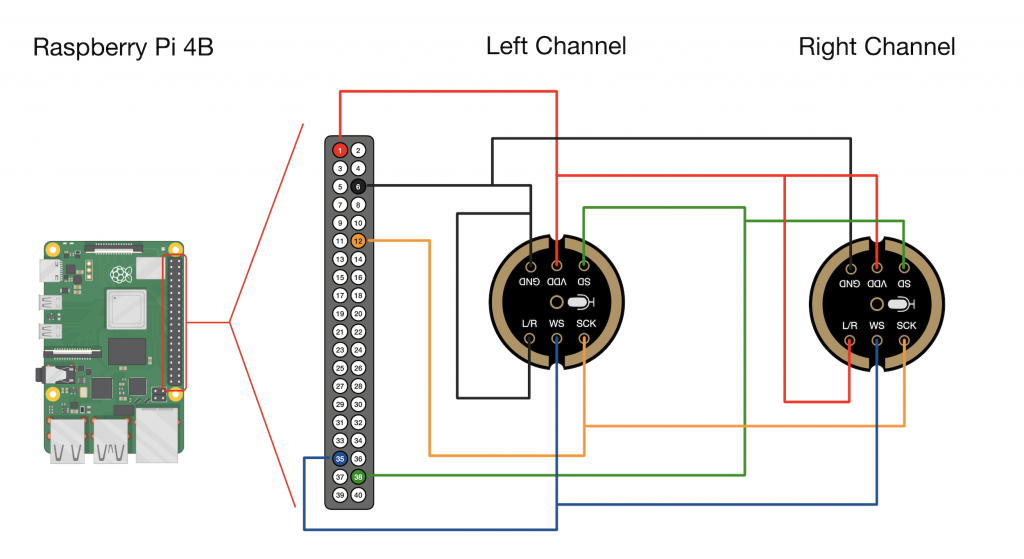 Here's a picture of the hardware kit. I built two units, so what is shown are two Raspberry Pi Zero 2W and two INMP441 MEMS elements: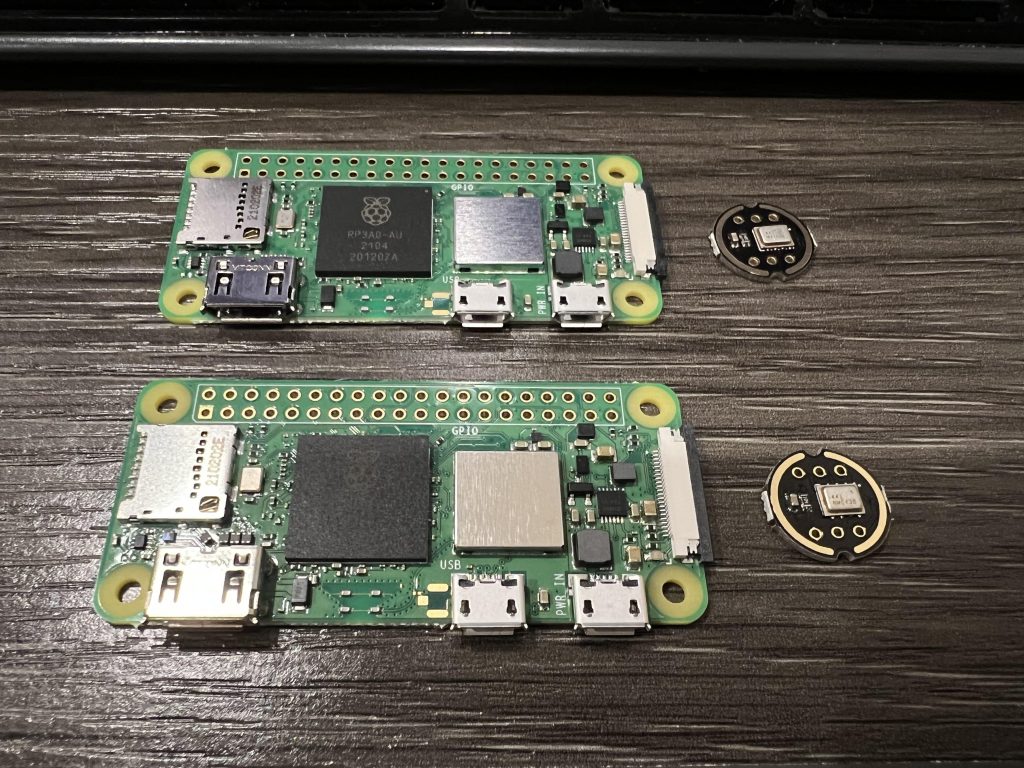 Here's a close-up of the MEMS mic element: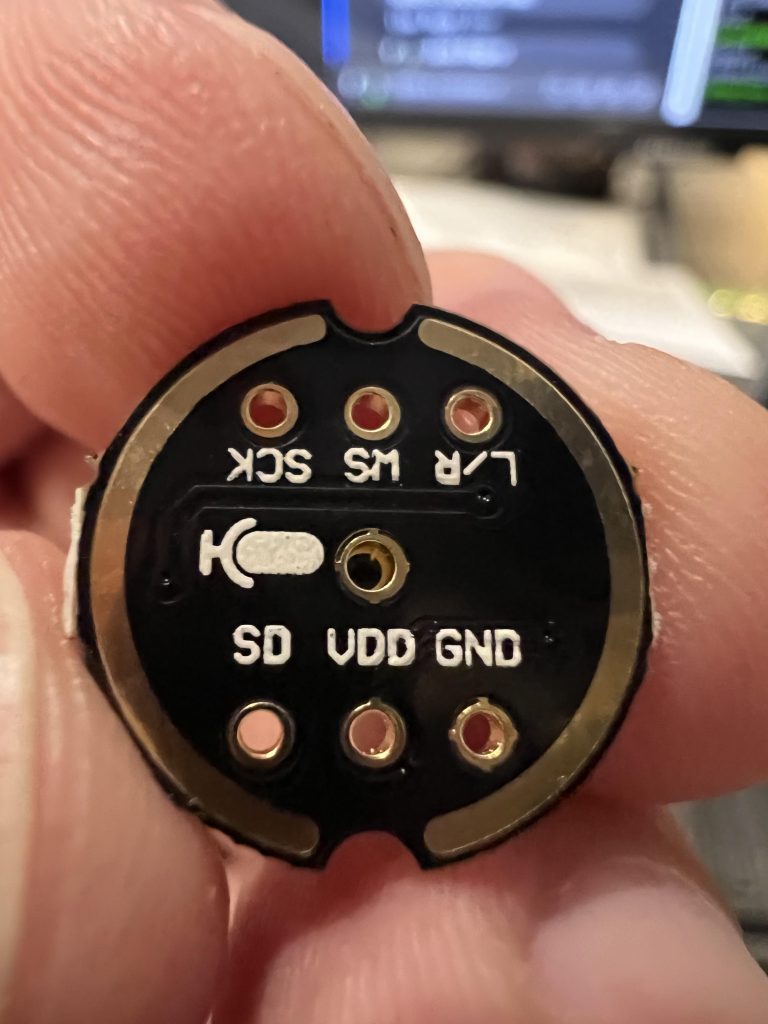 SOFTWARE
For software, I wanted to keep things simple: no GUIs, no top heavy libraries or applications, just bare Linux, minimal ALSA config, I2S driver, and one of my favorite audio tools: liquidsoap. Follow these steps to prepare your system:
Deploy your OS
I used Raspbian OS 11 as the OS, it is based on Debian so that makes it a familiar and logical choice. I won't get into how to deploy the OS, as that's not really the scope of this article, but you can get this information on the raspbian website. Once you have the OS deployed to your card, you will need a temporary Pi to use that has more RAM (NOTE: the Raspberry Pi Zero 2W only has 512MB ram, which is NOT enough to do the compilation of the software you will need. I suggest you put the SD card into a Pi 3 or Pi 4 with at least 2GB of RAM and do all the steps herein before finally transferring the card to your Raspberry Pi Zero 2W for production use.
Install required packages
Now that you have your OS loaded on your SD card, put the card in your temporary Pi unit and perform these steps logged in as your default "pi" user:
sudo apt update
sudo apt install opam screen aptitude make gcc git bc libncurses5-dev bison flex libssl-dev debhelper-compat linux-headers dkms
sudo usermod -aG audio pi
At this point, go ahead and reboot the Pi by issuing: sudo reboot. When the Pi reboots, we need to uncomment the source deb repository so we can install libfdk-aac-dev from the source packages. Debian is not able to distribute these as binary packages because AAC+ codec is not free. We can however easily get it from the source packages and have debhelper compile it for us. Follow these steps as your "pi" user:
sudo nano /etc/apt/sources.list

(uncomment the source deb package repo as shown):

deb http://raspbian.raspberrypi.org/raspbian/ bullseye main contrib non-free rpi
# Uncomment line below then 'apt-get update' to enable 'apt-get source'
deb-src http://raspbian.raspberrypi.org/raspbian/ bullseye main contrib non-free rpi

(save the file in nano by doing CTRL-O then exit by doing CTRL-X), and run the following command:

sudo apt update
sudo apt-get source libfdk-aac-dev
sudo apt-get --build source fdk-aac

(after the packages are downloaded and built, you will have the following packages in your current directory), run the following commands to finally install them:

sudo dpkg -i libfdk-aac2_2.0.1-1_armhf.deb
sudo dpkg -i libfdk-aac-dev_2.0.1-1_armhf.deb
At this point, we should have the minimum necessary packages installed. We can now go ahead and setup the I2S driver:
sudo nano /boot/config.txt

(you need to ensure the following are set as shown):

dtparam=i2s=on
#dtparam=audio=on

(after any changes, save the file and exit)

wget https://github.com/opencardev/snd-i2s_rpi/releases/download/v0.0.2/snd-i2s-rpi-dkms_0.0.2_all.deb
sudo dpkg -i snd-i2s-rpi-dkms_0.0.2_all.deb
sudo modprobe snd-i2s_rpi

(edit /etc/modules and add the following, then save and close the file):
snd-bcm2835
snd-i2s_rpi

sudo reboot
Last, we create a very simple ALSA config file:
(open for editing: /etc/asound.conf and REPLACE all contents with, save and close the file):

pcm.!default {
        type hw
        card 0
}
 
ctl.!default {
        type hw
        card 0
}
At this point, your Pi is ready to support I2S sound input. Reboot the Pi once more and then you can do the following command to verify:
arecord -l
**** List of CAPTURE Hardware Devices ****
card 0: sndrpii2scard [snd_rpi_i2s_card], device 0: simple-card_codec_link snd-soc-dummy-dai-0 [simple-card_codec_link snd-soc-dummy-dai-0]
  Subdevices: 0/1
  Subdevice #0: subdevice #0
The last software bits we need to add are Liquidsoap via OPAM:
opam init
opam switch create 4.10.0
opam depext taglib mad lame vorbis cry samplerate ocurl liquidsoap fdkaac alsa
opam install taglib mad lame vorbis cry samplerate ocurl liquidsoap fdkaac alsa
sudo ln -s ~/.opam/4.10.0/bin/liquidsoap /sbin/liquidsoap
At this point Liquidsoap should be installed, and now we can create a .liq file to define the output stream. I assume you already have an icecast server and this article assumes you know how to setup an icecast streaming server and connect sources to it. To define your mic's liquidsoap stream output create a file in "pi"s home directory with the following content:
input = mksafe(input.alsa()) 
input = amplify(10.0,override="replay_gain",input)
input = filter.iir.butterworth.low(frequency = 10000.0, order = 8, input)
input = filter.iir.butterworth.high(frequency = 200.0, order = 8, input)

output.icecast(
  %fdkaac(channels=2, samplerate=44100, bandwidth="auto", bitrate=32, afterburner=true, aot="mpeg4_he_aac_v2", transmux="adts", sbr_mode=false),
  host="my.stream.host",
  port=8000, password="[email protected]", genre="live",
  description="LIVE", mount="/mic2",
  name="MIC 2", user="source",
  url="http://my.stream.host:8000/mic2", input)
****** AT THIS POINT: GO AHEAD AND PUT THE SD CARD INTO YOUR PI ZERO W ******
Once you have this file set, you can test your install by doing:
liquidsoap -v mic.liq
If all is good, you should see the stream start. To automate it to start at boot time, you can place a file in /etc/cron.d:
SHELL=/bin/sh
PATH=/usr/local/sbin:/usr/local/bin:/sbin:/bin:/usr/sbin:/usr/bin

@reboot         pi      screen -d -m liquidsoap -v /home/pi/mic.liq
Save the file and reboot. Your live mic stream should now startup after reboot. You can then use any media endpoint you wish to tune in the stream and listen to the mic, or record the stream using VLC
You may wish to turn off and disable your swap to save your SD card:
sudo dphys-swapfile swapoff
sudo dphys-swapfile uninstall
sudo update-rc.d dphys-swapfile remove
sudo apt purge dphys-swapfile