Sonoff: A Versatile WiFi Switch
I have been playing a lot with home automation technologies and the ESP82XX/arduino platform as hardware interfaces to my ever expanding control system. Most of the stuff I'm implemented has been Z-Wave, but though Z-Wave is an excellent technology, it is rather pricey to acquire. Since the ESP8266 & ESP8285 chips have started showing up in some finished electronics, it is now possible, now more than ever, to reprogram these devices with your own custom firmware!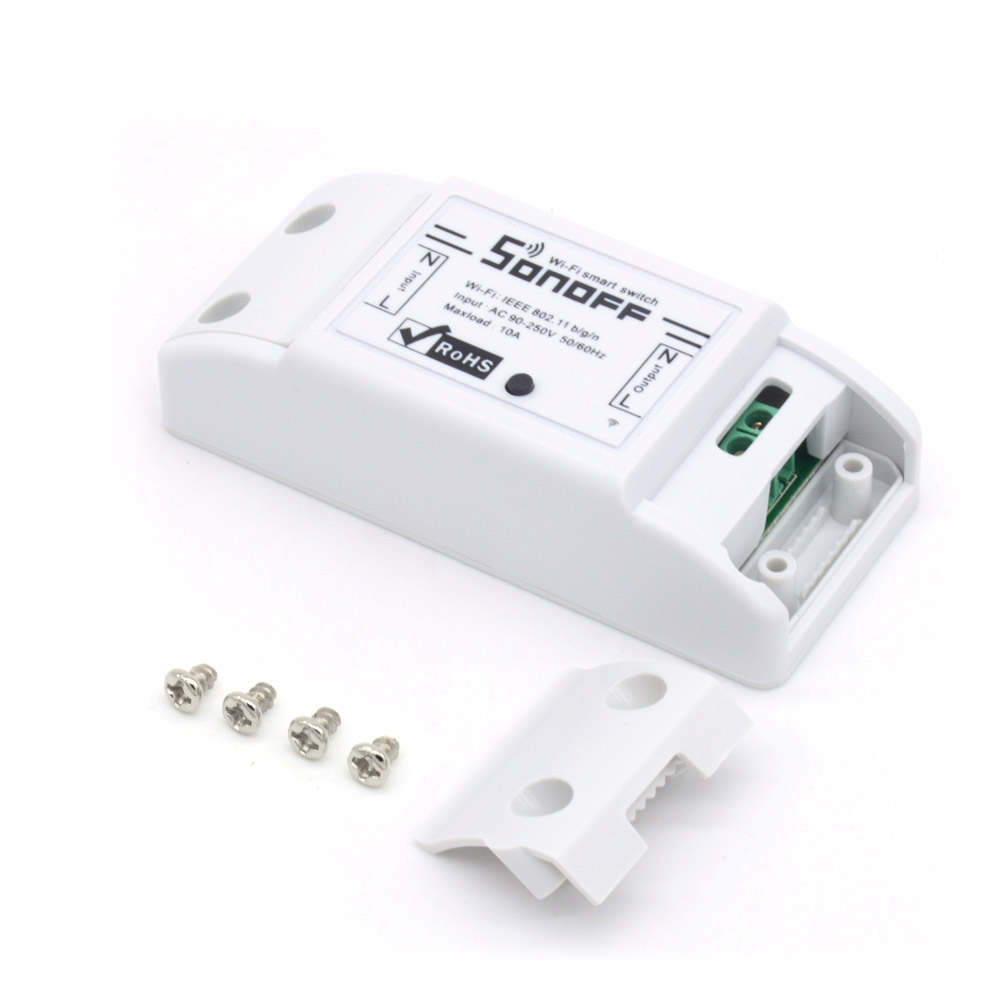 One such device is made by iTead Studio and is called Sonoff. Sonoff allows you to switch an AC load using your mobile device or PC from anywhere via their own cloud. In my home automation implementation, I want as little cloud involvement as possible – to minimize attack risk, and to keep other firms from data mining my habits at home. The only way to do that is to use technologies that allow local control and without cloud reliance. Unmodified, the Sonoff is an excellent device and generally available for $7 per unit. If you don't mind sharing your usage data with iTead Studio or relying on their cloud infrastructure to operate your device, then there's no need to modify it – just use it as prescribed.
For those who want total control and privacy, you can easily use 3rd party firmware or write your own! In my case, I wrote my own firmware which enables a simple HTTP interface which can be called by my Domoticz controller or manually. Since I have a VPN connection to my home on a DDNS hostname, I can easily and securely operate any devices from anywhere in the world with no need for an outside 3rd party, right from my mobile. To flash a custom firmware, you will need a few things:
Sparkfun FTDI Basic 3.3v USB to Serial interface
5 pin header (to solder into the Sonoff unit)
Arduino IDE software – to program the ESP8285 chip in the Sonoff
Screwdriver
Soldering Iron
Custom Firmware of your choosing or your own
Male to Female Dupont wires to wire the FTDI breakout to the header you'll install (see diagrams)
*** WARNING *** WARNING *** WARNING ***
This project/information deals with MAINS CONNECTED equipment!  You should NOT attempt to undertake anything described herein unless you are familiar with and confident with working with electricity and electrical safety!  Risk of DEATH, FIRE, ELECTRIC SHOCK, and PROPERTY DAMAGE can result if you are attempt anything described here without being familiar with the concepts and safety herein.   I will not be liable for your use of any of this information should you or someone else be killed or injured.  I implore you to seek qualified and experienced help if you are unfamiliar with or unsure of anything described here.  PLEASE BE SAFE!
Let's Get Started!
First, you will CAREFULLY disassemble your Sonoff unit and remove the curcuit board inside.  You will notice an unpopulated header where you will solder your 5 pin header to.  This is the programming interface.  (click for larger view)
Once you have soldered on the 5 pin header, you will now connect your FTDI serial breakout to your Sonoff:  (Click for larger view)

Once connected, now you will load your firmware into the IDE and choose the "Generic ESP8285" board and 1M size flash as shown: (click for larger view)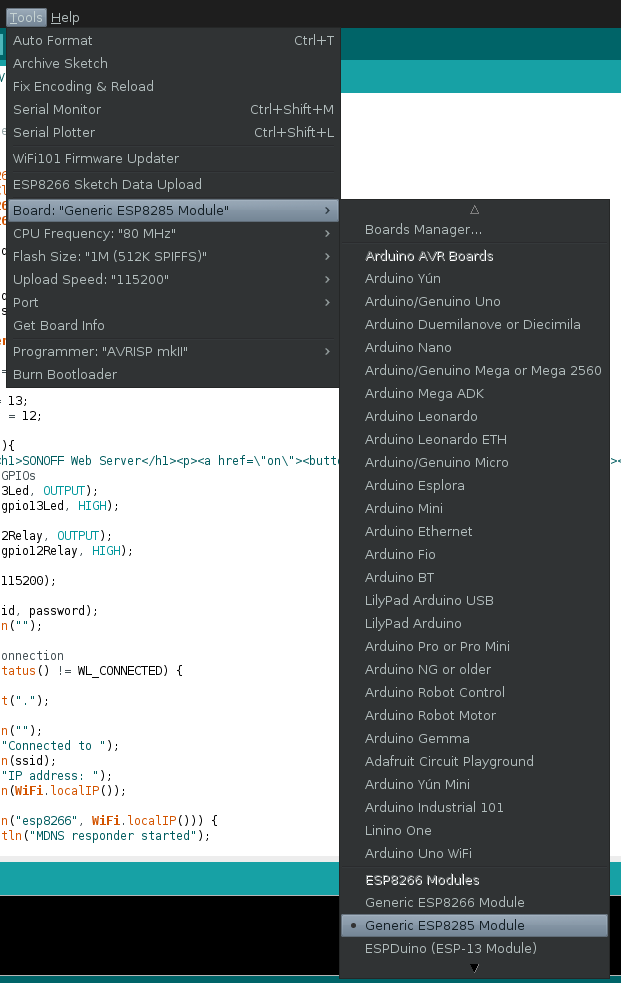 To flash: (NOTE: there is NO WAY to go back to stock firmware!  this is a final operation!!!)
Remove 3.3v lead
Hold down button & reconnect 3.3v lead (at the same time)
Release the button
Flash your firmware
That's it!  Reassemble your Sonoff switch and your Sonoff should be ready to use!
Here's my firmware.  You are free to use/modify it.   In my application I wanted the IP hardcoded, but you can easily change this to be DHCP.  I'm currently (at the time of this writing) trying to figure out how to serve the HTTP interface from SPIFFS but not quite there yet so for now, it is hardcoded and functional.
Here's how mine looks: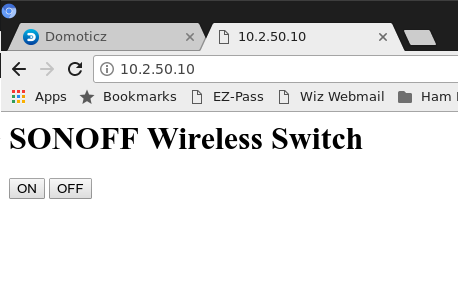 Very simple!  You'll notice that in my code, the switch responds to the URLs of /on and /off which makes it stupid simple to integrate with controllers like Domoticz, Wink, Smartthings, etc:  (click for larger view)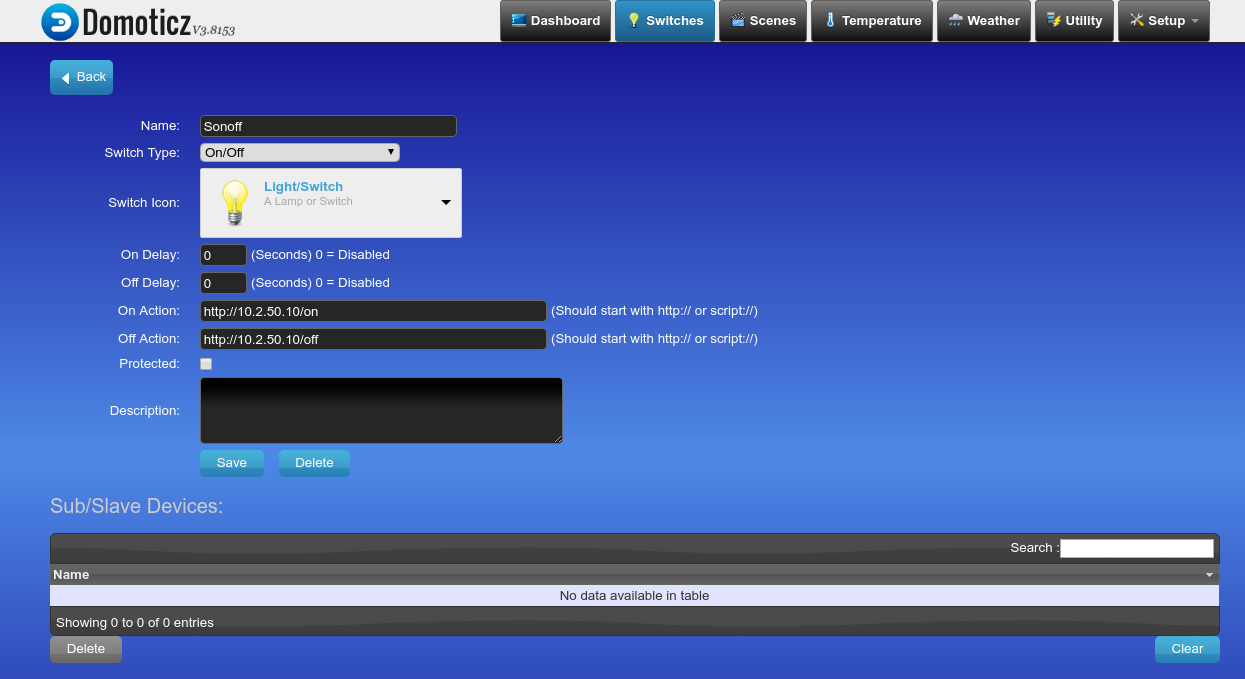 Once you configure this in your controller, you can then operate it as any other part of your system, and even with Amazon Echo (Alexa)!